On Monday, April 10, 2017, Cherry-Todd Electric celebrated National Lineman Appreciation Day.  Cherry-Todd Electric has a total of 10 linemen that work on the crew and of that there are; 2 Area Foremen, 6 Journeymen Linemen, and 2 Apprentice Linemen.  In order to become a lineman you must graduate with a line workers certificate from an accredited school.  This can take anywhere from nine months to two years depending on the school and program that individual chooses.  Cherry-Todd's line crew has had a wide range of experience from new hire to our veteran lineman having 51 years of service on the line crew! Even though we celebrate the day with the guys, we encourage the public to take to social media and #thankalineman to spread awareness about this incredibly dangerous but important job.  We all must appreciate being able to live in a home with electric light, hot water, and electric heat to keep you warm in the winter.  Without linemen this would not be possible, let's all show our appreciation on Lineman Appreciation Day.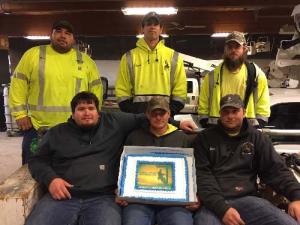 Left to Right Standing---Chris Rahn, Connor Venard, Jon Allen
Sitting Left to Right---Mark Iyotte, Tanner Lolley, Eliot Hight.